10 Tips for Finding the Best Stuart Computer Repair Service!
Technology is now essential in our lives. We depend on computers and devices for communication, work, and entertainment. However, constant use can cause wear and tear, often requiring repairs.
Whether you're a student, or professional, or simply enjoy using your computer at home, technical issues can be frustrating. That's where computer repair services come in, offering quick and efficient solutions for your device problems. But with so many computer repair services available, finding the right one for your needs can be challenging.
Here are 10 tips to help you find the best Stuart computer repair service!
Know Your Needs
Before searching for a computer repair service, it's important to know what kind of repairs you need. Are you facing hardware or software issues? Do you need help with data recovery or virus removal? Knowing your needs will narrow down the search and help you find a specialist who can address your specific problems.
Ask for Recommendations
Word-of-mouth recommendations are invaluable when it comes to finding quality services. Ask your friends, family, and colleagues if they have used any computer repair services in Stuart and what their experience was like. You can also check online reviews and ratings for different repair shops.
Check Certifications and Experience
A reliable computer repair service should have qualified technicians with proper certifications and training. Don't hesitate to ask about their experience, qualifications, and the types of repairs they specialize in. This will give you an idea of their expertise and whether they can handle your device's issues.
Look for On-site Services
Some repair services offer on-site visits, which can be more convenient if you don't want to leave your computer with a stranger or cannot afford to be without it for days.
Inquire About Turnaround Time
When your computer needs repairs, you want the issue fixed as soon as possible. Ask about the repair service's turnaround time to determine if they can provide a quick and efficient solution.
Compare Prices
While cost shouldn't be the only factor when choosing a repair service, it's important to compare prices from different providers. Look for a balance between affordability and quality of service.
Check Warranty and Guarantees
A reputable repair service will offer warranties or guarantees on their work. This gives you peace of mind knowing that they stand behind their repairs and will fix any issues that may arise after the initial repair.
Inquire About Customer Support
Good customer support is essential when dealing with any service. Ensure that the computer repair service you choose has a reliable customer support system, so you can get help in case of any further issues.
Consider Their Location
Choosing a computer repair service near your home or workplace can save time and hassle when dropping off or picking up your device. Proximity also ensures convenient access to the service in case of any follow-up repairs.
Don't Wait for a Crisis
Lastly, don't wait until your computer breaks down to start looking for a repair service. Research and have a list of reliable services at hand, so you can quickly contact them in case of an emergency.
With these tips in mind, you can find the best computer repair service that meets your needs and provides efficient solutions for your device issues. Remember to always prioritize quality of service and customer satisfaction in your search. Happy repairing!
Is it Cheaper to repair or replace a PC?
The answer depends on factors like the needed repair, PC age, condition, and cost of a new device. If repair costs exceed 50% of current value, replacing with a newer model may be more cost-effective. Yet, if it's a minor issue that can be fixed at a reasonable cost, repairing the PC may be a better option.
Consult a professional and consider all factors before deciding. Regular maintenance and timely repairs can extend your computer's lifespan and save you from premature replacement. Don't ignore device issues and always consider repair as an option.
Continue Learning about Technology!
Technology is constantly evolving, with new devices, software updates, and innovations introduced almost daily. As a computer user, staying updated on the latest technology trends is crucial for maximizing device potential and avoiding issues.
To learn about technology, attend workshops, seminars, or online courses on computer maintenance, data security, and troubleshooting. Follow tech blogs, podcasts, and YouTube channels for informative news and tips.
Besides staying updated on technology, practice good device habits. This includes regular data backups and keeping software and security programs up-to-date. With the right knowledge and practices, you can maintain your devices and keep them functional for longer.
Don't let technical issues disrupt your daily life. Use these tips to find the best computer repair service and stay on top of potential problems.
Make C&W Technologies Your Go-to Stuart Computer Services Provider!
At C&W Technologies, we know the value of dependable and efficient computer repair services. Our qualified technicians are committed to delivering top-notch solutions for all your device issues. With years of experience, our expertise lies in hardware repairs, software updates, data recovery, virus removal, and more.
We provide on-site and remote services for your convenience with a quick turnaround to minimize disruption. Our competitive prices and commitment to customer satisfaction make us the go-to computer services provider in Stuart.
Don't wait for a crisis! Contact C&W Technologies today for all your computer repair needs. We're here to keep you connected, productive, and entertained with reliable technology solutions. So why wait? Contact us now and let us help you get your devices back in top shape!
Stay Ahead of the Game with C&W Technologies
Apart from repair services, C&W Technologies also offers a range of other technology solutions to keep you ahead of the game.
We offer IT support for businesses, ensuring smooth operations and maximum efficiency. Additionally, our data backup and recovery services safeguard your important files.
For individuals seeking device upgrades, we provide custom-built computers and installation services, ensuring a seamless experience. Our team also assists with device setup, software installations, and troubleshooting.
At C&W Technologies, we're not just a repair service – we're your comprehensive technology partner. Reach out to us today to learn about our services and how we can keep you ahead in technology. Trust us for all your tech needs and enjoy exceptional service and satisfaction with every interaction.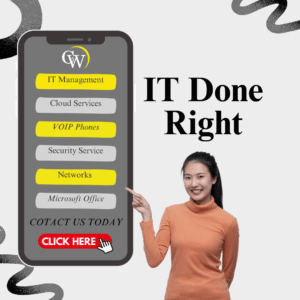 FAQs
Q: Can I get on site computer network services?
A: Yes, at C&W Technologies we provide both on-site computer repair and remote support for computer network services for our client's convenience.
Q: How do I find a reliable computer repair shop?
A: Look for reviews and ask for recommendations from friends or colleagues. Research the company's reputation, warranties, and customer support before choosing a computer repair shop.
Q: How long does it usually take to repair Mac computers?
A: The time it takes to repair a Mac computer can vary depending on the issue and the availability of parts.
Q: What could be the issue with a slow computer?
A: A slow computer can be caused by various factors such as outdated hardware, insufficient storage space, malware or virus infections, and multiple programs running in the background.
Q: My computer crashed, what should I do?
If your computer crashes, try restarting it first. If that doesn't work, consider seeking professional help from a computer repair service. Regularly backing up important files can prevent data loss in case of a crash.
Q: How long does it take to recover data from a crashed computer?
A: The duration of data recovery from a crashed computer depends on the damage and amount of data. A professional service can provide an estimated timeline after evaluating your device.
Q: Do you offer on-site network services for businesses?
A: Yes, at C&W Technologies we provide on-site network services to ensure a smooth and efficient operation for your business.
Q: Is same day service available for all types of device repairs?
A: While we strive to provide same day service for all our device repairs, it may not always be possible depending on the issue and availability of parts. We will inform you of any potential delays and provide an estimated timeline for your repair.
Q: What other Martin County Communities can C&W Technologies provide computer services?
A: At C&W Technologies, we proudly serve all communities in Martin County including Stuart, Palm City, Hobe Sound, Jensen Beach, Port Saint Lucie, Jupiter Island, Fort Pierce, Sewalls Point, and more surrounding area. Contact us today to learn about our services for your specific location.
Q: Can you provide spyware removal services for my computer?
A: Yes, at C&W Technologies we offer spyware removal and virus removal services to protect your computer from malicious threats. Our trained technicians will scan and remove any existing spyware on your device while also providing tips for preventing future infections.
Q: How can using C&W Technologies for computer repair services contribute to personal satisfaction?
A: Choose C&W Technologies for computer repairs and enjoy peace of mind. Our experienced technicians will handle your device and computer issues with care. We are committed to customer satisfaction, providing efficient and effective solutions that leave you satisfied at a reasonable price.
Q: How can using C&W Technologies for computer repair services help me gain customers?
A: By ensuring your devices are functioning properly, you can maintain a strong online presence and provide quality customer service. With our efficient repairs, certified technicians, and technology solutions, you can stay connected to your customers and improve their overall experience with your business. This can lead to positive reviews, and recommendations, and ultimately help you gain more customers. Additionally, we offer business IT support to improve your operations and productivity, making you a reliable and efficient choice for potential customers.
Q: Does C&W Technologies offer malware removal services?
A: Yes, we provide expert malware removal services to protect your computer from harmful and malicious software. Our technicians will scan your device, remove any existing malware, and provide tips for preventing future infections.
Q: Can C&W Technologies assist with overheating issues on my computer?
A: Yes, our technicians are trained to diagnose and address various hardware issues, including overheating. We can clean out dust and debris from your device's internal components and replace any damaged parts to prevent further overheating.
Q: Can C&W Technologies assist with hardware issues on my computer?
A: Yes, our technicians are trained to diagnose and address various hardware issues. Whether it's a malfunctioning component or physical damage, we can provide solutions to get your device back up and running smoothly at an affordable price.
Q: I just purchased a new computer, can C&W Technologies help with data transfer from my old laptop?
A: Yes, our technicians can assist with transferring your files and settings from your old computer to your new one. We can also provide recommendations for efficient storage solutions on your new device.
Q: How long does it take to replace a hard drive?
A: The time it takes to replace a hard drive can vary depending on the type and size of the drive, as well as the availability of parts. Our technicians at C&W Technologies can provide an estimated timeline after evaluating your device.
Q: Are there any cases where C&W Technologies may not be able to repair my computer?
A: In many cases, we are able to repair computers, but there may be rare instances where the damage is beyond repair or the cost of repair outweighs the value of the device. Our technicians will always communicate with you and provide alternative solutions if this situation arises.