Smart Solutions: The Key to Unlocking Your Business Potential
A smart solution is a technology-based approach that streamlines processes, improves efficiency, and increases productivity in business. These solutions can range from simple software applications to complex systems utilizing AI and IoT.
The Impact of Smart Solutions: Using the Right IT Hardware Solutions for Your Business
Implementing smart solutions in your business can greatly impact its success. Key benefits include:
Improved Efficiency
Smart solutions automate processes, reducing human error and saving time. This enables employees to focus on critical tasks, boosting productivity.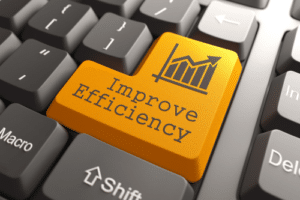 Cost Savings
Implementing smart solutions can save businesses money by streamlining processes, optimizing workflows, and reducing overhead costs. Utilizing data-driven insights helps businesses make informed decisions, leading to cost savings and increased revenue.
Enhancing Customer Experience
Smart solutions enable businesses to collect data on customer behaviors, preferences, and needs. This information can be used to personalize experiences and offer tailored solutions, boosting customer satisfaction and brand loyalty.
Custom Solutions: Choosing the Right Smart Solution for Your Business
Choosing the right smart solution for your business involves considering a few factors:
Identify Business Needs: First, identify pain points and determine which processes can benefit from automation or optimization.
Research Options: Research different choices, considering capabilities, compatibility, and costs.
Consider Scalability: Choose a solution that can scale with your business.
Evaluate Integration: Assess how a new solution will integrate with existing systems.
Once you've selected the right smart solutions, provide proper training and support to help your team adapt quickly and maximize the benefits of the new technology.
Hardware Service with Smart Solutions
Using smart solutions for your business involves incorporating hardware services. This includes devices like sensors, beacons, and other IoT components that collect and analyze data alongside software applications.
Hardware service providers offer customizable solutions to meet specific client needs, and they provide maintenance and support for smooth hardware functioning.
The Future of Smart Solutions IT Services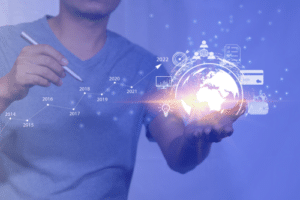 As technology advances, smart solutions evolve. Expect more innovative and advanced solutions that transform how businesses operate and grow.
Key trends in smart solutions:
Artificial Intelligence (AI): AI-powered solutions automate processes and enable data-driven decisions.
Internet of Things (IoT): IoT devices provide real-time data for operational improvements and enhanced customer experiences.
Blockchain Technology: Utilized in smart solutions for secure data storage and supply chain management.
C & W Technologies: Your Smart Solutions Provider!
C & W Technologies is the ideal partner for businesses seeking smart solutions. With our expertise in technology and operations, we can identify areas where smart solutions can have a significant impact on your business.
We offer a wide range of smart solution options, from simple software applications to advanced systems. Our experienced technicians will closely collaborate with you to understand your business needs and help you choose the right solution that aligns with your goals and budget. Take the first step towards implementing smart solutions in your business! So why wait? Contact us now for a consultation and see how we can help your business thrive with smart solutions.
Frequently Asked Questions (FAQs)
Q: How can smart solutions help improve staffing levels?
A: Smart solutions can automate tasks and streamline processes, reducing the need for manual labor and allowing businesses to allocate resources more efficiently.
Q: Can smart solutions provide tools for tracking employee productivity?
A: Yes, there are many software applications and IoT devices that can track employee productivity and provide data for analysis and improvement.
Q: How can hardware solutions benefit my business?
A: Implementing the right hardware solutions can improve efficiency, reduce costs, and enhance the overall performance of your business.
Q: How do I choose the right hardware solutions for my business?
A: It's essential to first identify your business needs and conduct thorough research on available options to ensure compatibility, scalability, and integration with existing systems.
Q: What if I can't find a pre-existing solution that fits my business needs?
A: You can opt for custom solutions, where specialized talent searches and technical skills are used to create a tailored solution for your specific business demands.
Q: What is the importance of maintenance for hardware products?
A: Regular maintenance ensures that your hardware solutions continue to function at their optimal level, avoiding any potential downtime or disruptions to your business operations.
Q: How can I maintain long-term success with my hardware solutions?
A: It's crucial to have a plan in place for equipment and infrastructure upgrades, as well as staying up-to-date with the latest technology advancements to optimize your hardware solutions continually.
Q: What are some common hardware solutions used in businesses?
A: Some common hardware solutions include computers, servers, networking equipment, point-of-sale systems, and security cameras.
Q: Why partner with C & W Technologies?
A: By partnering with us, you gain access to our expertise and a wide range of smart solutions that can help streamline your processes and drive success for your business.
Q: What sets C & W Technologies apart from other smart solution providers?
A: Our commitment to exceptional customer service and our ability to deliver customized solutions tailored to the unique needs of your business sets us apart from other companies.
Q: How can C & W Technologies help manage my business processes?
A: We offer customizable solutions that can automate and improve various business processes, allowing you to focus on other aspects of running your business.
Q: Can I rely on C & W Technologies for ongoing support and maintenance?
A: Yes, our team is dedicated to providing reliable support and maintenance services to ensure the smooth operation of your smart solutions. Our team will work hard for you.
Q: How can partnering with C & W Technologies drive results for my business?
A: No project is to big for the team at C&W! By implementing our innovative and advanced smart solutions, we can help your business achieve its goals and succeed in a competitive market.
Q: What types of clients does C & W Technologies typically work with?
A: We work with a diverse range of clients, from small businesses to large corporations, across various industries.
Q: Can C & W Technologies sell my business's data to third parties?
A: No, we prioritize the security and confidentiality of our clients' data and will not share it with any unauthorized parties.
Q: How can I become a partner with C & W Technologies?
A: Contact us to discuss potential partnerships and how we can work together to drive success for our clients.
Q: What is the process for implementing smart solutions with C & W Technologies?
A: After an initial consultation, our team will assess your business needs and develop a tailored plan for implementing smart solutions successfully on your site. We work closely with our clients throughout the entire process to ensure their satisfaction and drive results. Overall, partnering with C & W Technologies can help your business stay ahead of the curve and achieve long-term success through innovative smart solutions. We are the IT company for you! Let us become your go-to IT partners. Contact us today! See what the world-class people at C&W can do for you and your business. Don't hesitate – contact us today to see how we can help drive your business forward.