Did you know?
According to the American Bar Association's 2020 Legal Technology Survey Report, 29% of law firms experienced a security breach that resulted in a data loss or exposure.
The same report found that the most common causes of data breaches were phishing attacks (33%), followed by lost or stolen devices (22%) and unauthorized access (19%).
Data breaches are becoming increasingly prevalent in today's digital age. According to the 2021 Cost of a Data Breach Report by IBM, the average cost of a data breach globally was $4.24 million, with the average cost per lost or stolen record being $150.
These statistics highlight the importance of law firms implementing strong security measures to protect their clients' data and information. Law firms should also provide regular training to their employees to prevent human error-related data breaches and have incident response plans in place to minimize the impact of a data breach if one occurs.
Changing how You Work One Step at a Time
Information technology (IT) has become a critical component of the legal industry. Law firms rely on technology to improve efficiency, increase productivity, and provide better client service. Some examples of IT services for law firms:
Document Management: Law firms deal with a large volume of documents, and IT systems are used to manage and organize these documents. Document management systems allow lawyers to search for and retrieve relevant documents quickly and easily.
Billing and Time Tracking: IT systems are used to track billable hours, generate invoices, and manage finances. Time tracking software helps lawyers to accurately record the time spent on each task, ensuring that clients are billed correctly.
Electronic Discovery: Electronic discovery (e-discovery) is the process of identifying, collecting, and producing electronically stored information (ESI) as evidence in legal cases. IT tools are used to search and analyze large volumes of data to find relevant information quickly and efficiently.
Virtual Collaboration: Many law firms have adopted virtual collaboration tools that allow lawyers to work together on documents, share information, and communicate with each other regardless of their physical location.
Cybersecurity: Law firms are responsible for protecting their clients' confidential information, and IT systems are used to secure data against unauthorized access, theft, and cyber attacks.
IT is an essential component of the law firm industry, enabling lawyers to manage documents, track billable hours, conduct e-discovery, collaborate virtually, and protect client data. Law firms that invest in IT solutions can improve their efficiency, increase productivity, and provide better service to their clients.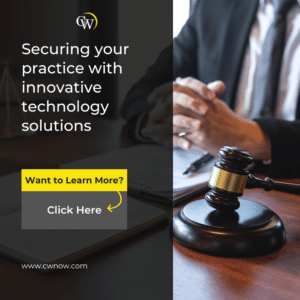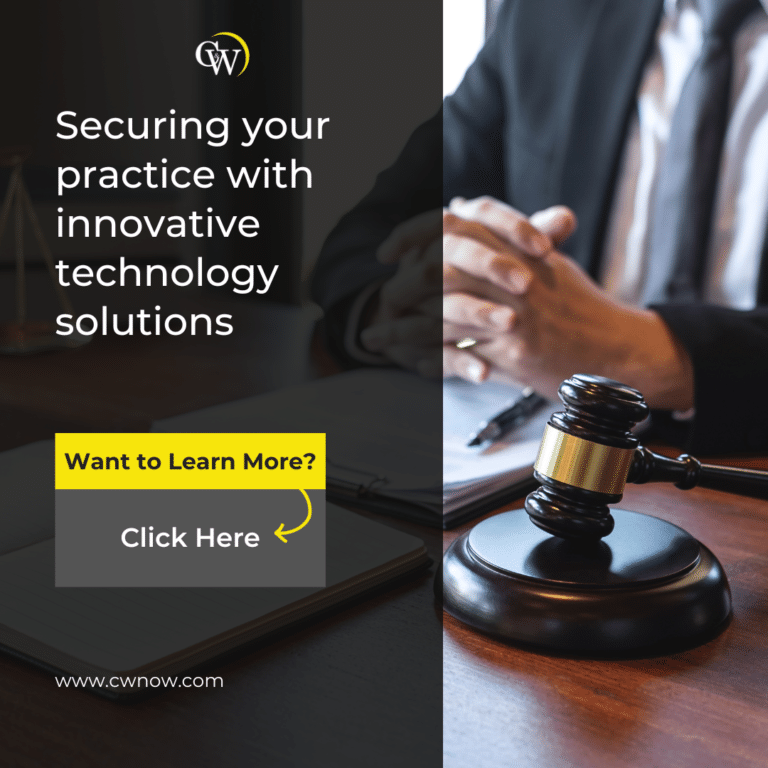 CMMC (Cybersecurity Maturity Model Certification) is a set of security standards developed by the US Department of Defense (DoD) to ensure that contractors that handle sensitive information and data are implementing adequate cybersecurity measures. While CMMC was initially developed for defense contractors, it is becoming increasingly important for other industries, including law firms, as they handle sensitive client data and are frequently targeted by cyberattacks. Law firms are subject to regulations such as HIPAA, GLBA, and GDPR, which require the implementation of security measures to protect client data.
Law firms handle confidential client data such as personal information, financial data, and legal documents. A breach of this information can be devastating to clients and the firm's reputation. Implementing compliance measures can help ensure that this data is protected against cyberattacks.
Cyberattacks can result in lost productivity, lost revenue, and damage to a firm's reputation. Compliance measures can help mitigate these risks by implementing actions such as data encryption, access controls, and incident response plans.
Prevention and Protection is Our Business
Are you curious to learn more about how a technology company can help your business grow and succeed? Don't miss out on the opportunity to explore the latest in cutting-edge technology solutions that can streamline your operations, enhance your productivity, and empower your team. Discover how our innovative products and services can help your business thrive in today's fast-paced digital world. Contact us today to schedule a consultation and learn more about how we can help take your business to the next level.
Want to Learn More?
Contact us today or visit our website.
Connect with us on social media!